What a busy couple of weeks we have been having here at Van Man. You would have never thought it was the first few weeks in January. 
We have been carrying out removals all over Devon and Cornwall and bar one quick run up to Cardiff have been working locally which is nice! 
The unseasonably mild weather has made driving considerably easier last year and we are thinking the very expensive winter tyres that we bought for the vans may have been a bit over cautious.
We have taken delivery of our new brochure which we will be displaying at all the 4 Quickstore sites and some local estate agents ( but more on that later)
February is shaping up nicely with some great bookings and we really love having the 3 vans working now and taking on even more work.
Well we have all three of our vans sign written now. Big thanks to Jerry at Touchwood Signs ( www.touchwoodsigns.co.uk ) who has done a great job on the last 2 vans. 
We can't wait to get cracking on all the jobs we have booked in for January and we have been really pleased with all the enquiries we have had this year already.
The new vans have made it possible for us to say our favourite words of "Yes we can" to a lot of our enquires and we are watching the orders come in! We also have the next part of our advertising campaign in the pipeline and should be completed in the near future.
All in all a very positive start to the new year.
And then there were 3
6th January 2012
The newest addition to the Van Man fleet arrived this morning.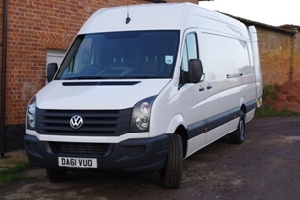 It's another brand new VW crafter. This is the extra long wheel base version so shall be even more fun to park at Tesco, but will give us even more floor space and volume.
The van has VW's new 2.0 litre engine which is a class leader in fuel consumption and emissions so we will be doing our bit for the environment. Watch this space for some other environmental initiatives we have up our sleeves.
Van Man is up to 3 full time vehicles now and with a great partnership with a local hire company we have the capacity to complete jobs of any size.
Keep an eye out for our vans and this new one will be sign-written by the end of the week.
If you do spot us give us a wave !!!
Windy New Year
3rd January 2012
Happy new year to our customers new and old.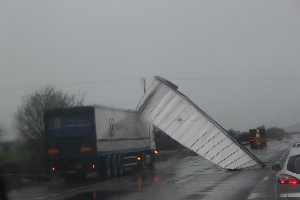 It was great to have a break over the festive period but we have started 2012 with even more enthusiasm than last year. Much is planned for this year and we have been interviewing new staff and have new vehicles on order.
The first jobs of the new year were a bit of a shock with storm force winds hitting the UK.
Mike had the unenviable task of driving right across the UK from North Devon to the East of Essex. We did get the job completed without delay but it took some pretty cautious driving. However no matter how careful you are, nature can be relentless as this truck driver found out on the M5 just south of Burnham on Sea. We were only about 1 minute behind him and my passenger took this snap.
Luckily no one was hurt.
for latest news click here