Art delivery Exeter 
Obama, Einstein and The Queen
9th October 2012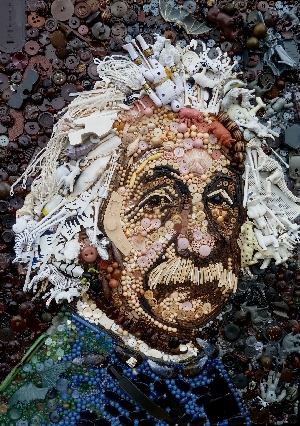 What do Barack Obama, Albert Einstein and Her Majesty The Queen have in common? They've all been immortalised by one of Van Man's regular clients, Jane Perkins. A former nurse, Jane is based at Kenton, near Exeter and describes herself as a 're-maker'. Her works of art are made from found objects; from Barbie doll shoes, to buttons and shells. They always raise a smile, and on close inspection are incredibly intricate, requiring hours of concentration by the artist.
Van Man has been delivering Jane's creations, primarily to London galleries, since 2010. In May this year Mike took eight of her works to a special exhibition near the London 2012 Olympic Park. And we've just heard that Jane has been awarded first prize for her depiction of Usain Bolt, at the Thelma Hulbert Gallery's 'Equality and Endeavour' exhibition in Honiton. Congratulations Jane!
Van Man is always happy to consider the particular requirements of specialist customers like Jane. Please get in touch if you would like to discuss what you need. Our experience in moving work for artists also means Van Man is well qualified to move art as part of customers' house moves as well.
If you would like to see more of Jane's work please visit her website at - www.bluebowerbird.co.uk
October 2012
From Van Man to Action Man!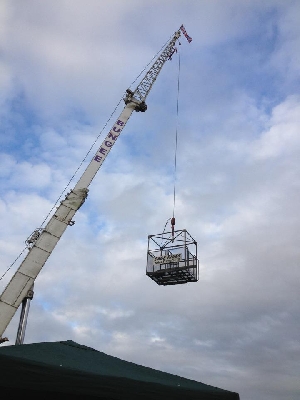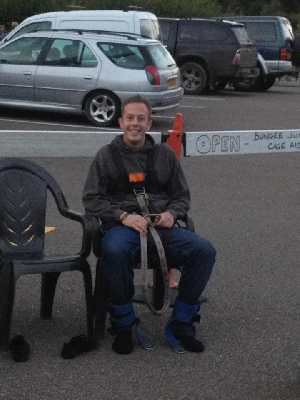 Don't let it be said that the team at Van Man aren't up for a challenge...
This weekend saw Van Man's Liam Willis plunge towards the ground in aid of charity. He took part in a bungee jump to raise money for Devon Air Ambulance. Not for him the picturesque surroundings of a great canyon or an exotic gorge, Liam's jump took place from a crane in a pub 
car park in Bovey Tracey ! Brave Liam's such a committed worker he even wore his Van Man jumper to do the jump – well done!