Weight Limits
A point that is often over looked by self-movers and less experienced removal companies, is the weight limits commercial vehicles can safely, and legally, carry.
We often get comments like "it would all fit in one van" or "there's not much to move; it's mainly boxes".
But there is a massive difference between what you can "fit" in a van or lorry, compared to what it can legally carry.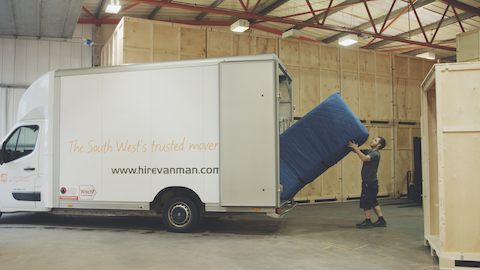 Take your run-of-the-mill Transit-size Luton van. This is likely to be a 3.5ton van. This refers to the gross weight of the van, meaning that once loaded it cannot weight more than 3500 kg (and NOT that it can take 3.5t of load).
So the un-laden van probably weighs around 2.5 tons, and add on to that two removal staff, sack trucks, blankets and fuel etc then you are looking at a payload as low as only 700 kg.
Now add on to that a very heavy tail lift and you are looking a van that can only take a legal load of 500kg. Also remember that this weight needs distributing legally over the axels.
So all of a sudden your removal company who are offering to move your 2-bed flat in one van, may physically be able to fit the items in the van, but will it be over the legal weight?
If your average box weighs 10-15 kg and you have 30 boxes that's 300–450 kg and your van fully loaded before any furniture or white goods.
The penalties for overloading are rightly severe as this is a dangerous practice. Plus there's the potential inconvenience for you as a customer, as your mover is stopped and potentially not allowed to continue their journey due to being overloaded.
Here at Van Man we will endeavour to take into account not just the volume of your goods but also their weight and supply vehicles accordingly.
We use the lightest custom made removal vans OUR FLEET on the market which, including staff and materials, can take a load of around 1ton.
We also have a 12t and 18t lorry; the 18t lorry can take a load of 9 tons!
Ideally get your mover to visit before the move to have a look at what needs moving and assess the weight REMOVAL VISIT
Let your mover know about any heavy items. Don't forget a box of books weighs a lot more than a box of clothes, so let them know what you have in all those boxes.
So, in conclusion, this may be one of the reasons you get a slightly higher quote from the more experienced movers, as they are supplying extra vehicles to stay legal and safe, and make your whole move go as smoothly as possible.