Guest Blog 1: Storage Exeter
As you might imagine we at Van Man Removals Exeter come across lots of related industries in the course of helping our customers move house in Exeter, Devon and beyond. We thought it might be interesting and helpful to feature some of their expertise in a series of guest blogs, the first of which is with one of our storage Exeter partners.
We interviewed Alex Clark, manager of White Horse Storage near Exeter, Devon, to ask him a few questions about the storage industry…
How long have you worked in storage?
I've been in the storage industry for 9 years now. I have met some interesting people along the way. Some I have become friends with and I like that because it lets customers know you're there to help and that their goods are safe.
How do I start to choose a storage company?
Everyone always goes on how much it costs but that should not be the key factor because there are many different elements you need to consider.                                                                                                Location: Is it miles from where you are? Is it in an area that's busy at the times you would want to visit? Has it had any problems with break-ins? etc. Security: What is there level of security such as do they have anything in place to prevent things from being stolen, like CCTV, alarm monitoring, padlocks? Staff: Are the staff helpful and friendly? Cost: This is a key factor but only once you are happy that most of the others have been looked at, in my view.
What do I need to do about insuring my possessions while they are in storage?
There is a local insurer that I let customers know about and they are called GM Insurance Brokers. But it's worth calling your home insurance company and explain where you're storing your belongings and for how long. They will generally amend your policy for little or no cost.
Are my items safe in storage?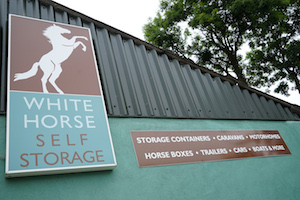 Yes security here is very tight, with our key fob system that tells me what time you enter and exit the site, 24 hour CCTV monitoring and all containers must be locked with a padlock. People always think container storage has a big problem with goods inside getting condensation or damp, but this is only a problem if the units aren't vented or coated inside, and if goods go inside damp they will stay damp. There is no harm in putting moisture packs in the units to prevent against this also and it's a very cheap option to put your mind at ease.
How do I work out what size unit I need?
I always ask customers what they have to store as that always gives me an idea of the size container that is needed and from there I can give a rough quote. But the best way is to get the removal guys to come and see what you have because 9 times out of 10 they are spot on.
How much does storage cost?
That's down to the customer if they want to just put it in the unit and leave it until they move then you could get away with a smaller unit, but some like to have a little moving space to organise their belonging so you would possible look at one of the bigger unit. Our prices can be found on our website http://www.whitehorseselfstorage.co.uk/containers
Any top tips for packing a storage unit?
The best advice I always give is that sofas can often go up on their ends, to use the height of the unit. And if you have any cupboards or wardrobes, then fill them with boxes or little bits as this can be a lot of space that is generally wasted.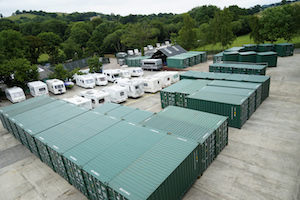 Will I be able to access my things at any time?
We have a key fob access system that allows our customers to have access from 6am to 9pm, 7 days a week and if they really think they need 24 hour access then that can be given for a low annual rate.
What's the shortest and what's the longest time I can keep things in storage for?
The minimum storage term is one week and we don't have a maximum you can stay for as long as the customer needs or wants.
What's the strangest thing you've ever seen stored?!
There have been a few things over the years that I can't say! But one of the strangest things was a unit full of old bikes and these were old rusty bikes that really would never have been ridden by anyone ever again.
For more information on the services available at White Horse Storage have a look at their website www.whitehorseselfstorage.co.uk
Or give Alex a call on 01392 811 445
And for your move to storage be sure to give Van Man Removals a call