Van Man Removals Blog - Our week 9th – 15th May
Week 5 in the Van Man Removals blog and it's been another great week at the helm of the South West's Trusted Movers!
For what I think is the first time ever, it was a week when none of our teams left Devon! All our removals were local but when you live in such a beautiful county, and we've had a bit of sunshine, its' no bad thing.
The final move of the week was a 2-day full pack and move from one town house in Exeter to another. This, plus the sweltering heat on Friday, made for a tough end to the week and even drew me out of the office to help. If my new fitness watch is to be believed then I clocked up nearly 30,000 steps on the Friday and climbed some 116 floors – and it certainly felt like that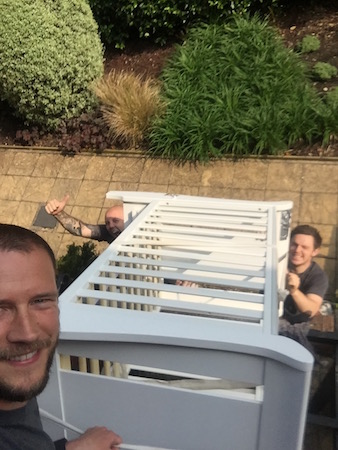 the following day!!
I often say "I don't know how my guys do that, day in, day out" - removals can be seriously hard work! Thisjob also posed some challenges with some wardrobes and other furniture having to come out over a balcony. The Van Man Way is to do things properly so with 4 men on site and years of experience and the right protective materials this was done without a hitch and with a smile as pictured!
I've just been running through some of our stats for the week and realised that nearly 50% of the house visits I made this week to quote for future moves, have been for people we've moved before. It's great to get back and see some old faces and hear the stories of what they have been up to since we last met.
Most of these return customers moved into rental properties on their last moves and have now bought houses and are getting ready to move again.
And of course it's great to see that they were happy with the service last time and want to use us again.
Here's to more Devon sunshine for all of us this week.
Mike