Van Man offers Father Christmas a helping hand!
December 2012
Van Man Exeter has been getting in the festive spirit by volunteering its services to the charity Operation Christmas Child for the second year running.
The idea of the organisation is to encourage donations of shoeboxes filled with gifts. These shoe boxes are then delivered around the world to children who without this donation may not receive a Christmas gift.
In 2011 Van Man contacted Operation Christmas Child's Exeter base to offer our assistance. We moved approximately 1400 cubic feet of boxes from Plymouth to join the 16,000 shoeboxes to leave the Exeter depot destined for eastern Europe.
Van Man Exeter's Mike Bradley says "We heard some really inspiring stories when helping out last year, including a woman from Dartmoor who spends all year knitting hundreds of woolly hats to be sent to the children! Van Man Exeter is delighted to have been able to help this good cause once again."
This year, Van Man moved two van-loads of shoeboxes from Plymouth to Exeter, all for free.
Operation Christmas Child was set up in 1990 by father of four Dave Cooke, from Wrexham, who was so moved by the plight of Romanian orphans that he organised a lorry-load of toys to be collected and taken to them. Twenty years later, more than a million shoeboxes are given to children in deprived areas around the world each Christmas by the organisation.
Fire-struck charity moves home – with a little help from a friend!
21st November 2012
It's been a charitable month for us here at Van Man Exeter. As well as moving hundreds of shoeboxes of Christmas presents for children overseas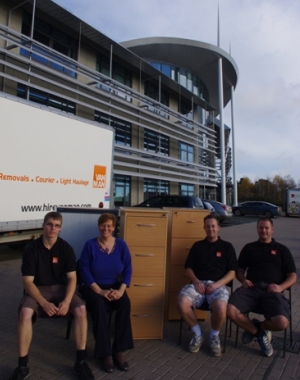 ( See previous blog!) we have helped a local charity move offices for free. There was a fire at the headquarters of Surf Life Saving GB on 2 November.
Van Man had helped them move offices earlier this year so we immediately got in touch to offer to relocate them for free. In fact the charity's moved just next door from its previous office on Southernhay in Exeter, after being told the whole building will be out of action until at least March 2013.
We collected office furniture donated from a company in Bristol and from ATASS in Exeter spent Wednesday 21 November delivering and assembling the furniture for the charity at its new office.
Surf Life Saving GB's Chief Executive Esther Pearson said: "As a charity we keep very little in reserves, instead choosing to reinvest in supporting clubs and developing education programmes, so this has been a challenging time for us. We are so grateful for all the support we've received locally, and Van Man's help alone is worth £720, we're so thankful."
The charity work also got us a nice write up in the Express and Echo and also articels at -