How to pack garden tools.
Its often impractical to box up your garden tools.
Smaller items are not an issue but long handled tools such as shovels and garden forks are trickier.
You can make up a large box using to normal boxes and joining them together but the simplest and most cost effective advice would be as follows.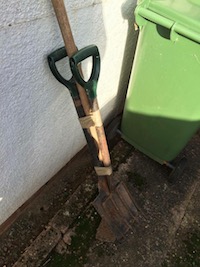 Remember to give the items a quick clean if they are dirty.
Bundle 3 to 4 similar size items together.
Put a wrap of tape around the top and bottom of the handles to securely fix the items together and you are DONE.
This turns 3 or 4 awkward items into 1 easy to carry and load bundle