Van Man Removals response to Covid-19, 13th May 2020
Firstly, we hope that this message finds you safe and well.
Given updated government general advice that "if you cannot work from home you should be encouraged to return to work" and more specific industry advice that house sales, purchases, rentals and removals can start to proceed again, we are planning our return to work.
Exact dates and our capacity are yet to be confirmed but we would encourage anyone looking to move to get in touch.
Indeed, the government's advice on house moves is to contact removals companies as early in the process as possible. There's a link to this advice in full, updated today, below.
In response to the current pandemic, we have plans in place to carry out more virtual surveys using phone technology – photos, video and video calling - and have updated our online quote forms and inventory systems.
We also, and as always, take our staff and clients health and safety very seriously and thus have put a comprehensive risk assessment in place. This brings us into line with HSE " Staying Covid-19 Secure in 2020" Policy. All staff have been fully briefed on this and all relevant PPE has been purchased.
We have also put in place a concise list of requests for our clients to help keep everyone safe, which we can send you upon booking, or earlier in the process if you would like that.
We really look forward to getting back to work, though we imagine that we may be entering a challenging time still, and really appreciate our clients choosing a small, locally-run family business for your house move.
All the Best,
Mike Bradley Director, Van Man Removals and Storage Ltd
https://www.gov.uk/guidance/government-advice-on-home-moving-during-the-coronavirus-covid-19-outbreak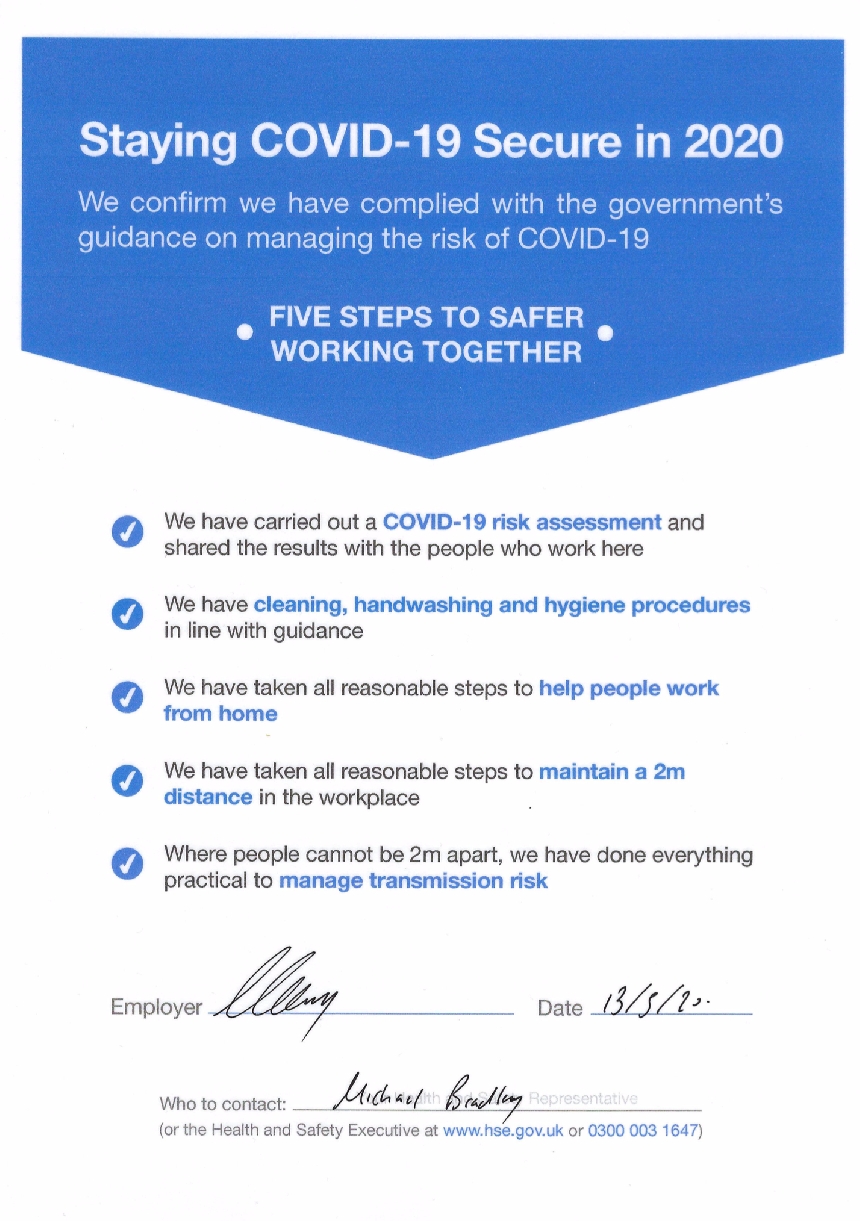 Van Man Removals response to Covid-19, 30th March
In the light of the latest government guidance, and in line with other removals companies in the UK, Van Man Removals and Storage has had to make the very difficult decision to temporarily suspend our home removals service from April 2020.
On 26th March the government issued guidance on home moving which says home buyers and renters should where possible delay moving to a new home, even including delaying a move once a legal completion of sale has taken place.
We also wanted to act in the best interest of our loyal team of dedicated staff.
For the last couple of weeks we have been working flat-out to complete urgent and essential removals, including for some vulnerable customers.
We pride ourselves on never letting our customers down and therefore have not been taking any new bookings which we would have been unable to complete.
Any items in storage will continue to be safely looked after for our valued customers.
We look forward to being able to help as many people as possible move home, as soon as we can safely get back to work.
https://www.gov.uk/guidance/government-advice-on-home-moving-during-the-coronavirus-covid-19-outbreak
Van Man Removals' Response to Covid-19, 22nd March 2020
In these uncertain times Mike and the Van Man Team have been taking steps to make sure our service to our customers remains as professional as ever, while also protecting our staff. At time of writing, we are continuing to operate a full removals and storage service, as usual but with increased health and safety measures in place. 
For the coming months, we are switching to a "not-for-profit model" in an effort to protect our team's jobs. This means from April, we will be booking in half the normal number of jobs, to make sure we have plenty of staff available to carry out your move to our usual high standard.
We will be restricting our home visit service and would ask you to take advantage of our online quote form – Or you can simply email us a list if what needs moving or use photos, videos or video calling to help us accurately quote for you
To make sure we can help as many people as possible, please only book if you are certain your removal will be going ahead - for example, with house purchases, please wait until you have exchanged to book.
During quieter periods, and if safe to do so we plan to offer our services to local charities, if possible, so please let us know any suggestions of organisations that might need our relevant help.
Please let us know as early as possible if you or anyone in your household is unwell. We don't want to risk our staff and their families - and remember the next home they go to could be someone elderly.
Our normal terms and conditions will generally continue to apply, unless we have to conform with government guidance as a business.
We will continue to monitor Government guidlines and adapt business practises accordingly 
Can we take this opportunity to wish you the best of health - NHS LINK
Mike and the Van Man Team